What: Informal, minimally-structured volunteer opportunities
Activities: Earthen building, organic gardening, and natural landscaping
When: 10-30 May 2015 (Volunteers may arrive and depart anytime during this period, with a minimum stay of one week)
Where: Dharmalaya Institute, Bir (Ghornala)
Languages: English & Hindi
Who: No formal facilitation, but as-needed guidance from Dharmalaya staff and artisans, e.g. Sidney Rosario, Raj Kumar ('Raju'), et al.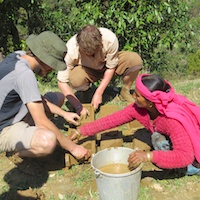 Description: Informal volunteer opportunities at the Dharmalaya Institute open to both residential and non-residential participants. During this period, there is no structured educational or training programme as such, but there is plenty of physical work to do — including earthen building (adobe, bamboo, etc.), organic gardening, natural landscaping and possibly some tree planting — and Dharmalaya is a beautiful place to get your hands dirty and learn about green living and Himalayan culture in the process.
For more information see dharmalaya.in/events/2015/3/1/open-volunteer-period-10-30-may-2015.html