The Bir Portal (BirHP.com) is your guide for the greater Bir area of Himachal Pradesh.
Introduction to Bir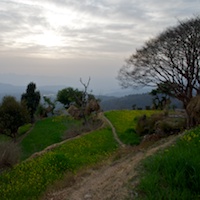 The charming Indian town of Bir (Hindi: बीड) is known worldwide as a destination for ecotourism and meditation studies, and is praised by visitors from all corners of the earth for its natural beauty. Bir is situated in the foothills of the Indian Himalayas in the Kangra District of Himachal Pradesh, amidst paths winding through tea gardens into the forests and mountains to the north. The greater Bir area (which includes Billing, the Tibetan Colony in Chowgan, Ghornala, and Sherab Ling in Bhattu) is home to a diverse community of over a thousand Indian villagers, a Tibetan refugee settlement, and a small but growing international population (including students of meditation and philosophy, volunteers, and seasonal waves of paragliders and other outdoors enthusiasts).
The Bir Portal
To serve the diverse needs and interests of residents and visitors, we have created this community-sourced online guide to the places and activities in the greater Bir area. Here you will find information on food, educational programmes, volunteer opportunities, accommodation (hotels, guesthouses, cottages, long-term rentals, camping), health and healing resources, local NGOs, history, and more.
Recommended starting points:
For travellers & visitors: Bir Visitors' Guide
Travel tips, accommodation, dining, shopping, health tips, etc.
For residents: Bir Directory
A directory of local organisations, businesses, services, etc.
For general info & research: About Bir
Introduction, history, geography, and more.
For a listing of special events, programmes, courses, and activities in the greater Bir area, see our Bir Events Calendar and our Bir Activities page.
Join the Community & Help Us Improve
The Bir Portal is a community-driven project to provide information and resources for life in the Bir area for the benefit of everyone. We rely on people like you to keep the information here current, correct, and complete. If you have anything to add, you're welcome to post in the comments section of the relevant page. Anyone can create an account on this website and post helpful comments and contributions whenever you're inspired. Have fun!
Spread the Word with Your Social Networks