What: Sustainable Living in the Himalayas — A Service-Learning Retreat
When: 1-8 May 2015
Where: Dharmalaya Institute, Bir (Ghornala Village)
Who: Mark Moore, Sourabh Phadke, et al.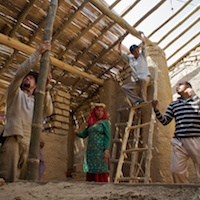 A week-long mindful adventure in sustainable and compassionate living, providing opportunities for exploration of both inner and outer sustainability. We will practice meditation not only sitting on the cushion but also in action, performing mindful service work doing organic gardening, eco-friendly earthen construction, and natural landscaping around the beautiful Dharmalaya campus.
Groups sessions may include the following:
Sitting meditation (instruction and practice)
Explorations of various aspects of sustainable and compassionate living
Conscious movement: Hatha yoga and/or chi kung (morning/evening sessions)
Hands-on workshops in traditional earthen building, organic gardening, and natural landscaping
Space is limited, so advance registration is required. For information and registration, use this form.