What: Informal, minimally-structured volunteer opportunities
Activities: Earthen building, organic gardening, and natural landscaping
When: 15-29 April 2015 (Volunteers may arrive and depart anytime during this period)
Where: Dharmalaya Institute, Bir (Ghornala)
Languages: English & Hindi
Who: Facilitated by Mark Moore, Raj Kumar ('Raju'), Naresh Kumar Sharma, et al.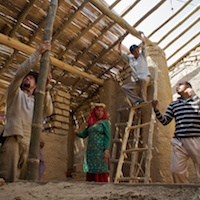 Description: Informal volunteer opportunities at the Dharmalaya Institute open to both residential and non-residential participants. During this period, there is no structured educational or training programme as such, but there is plenty of physical work to do — including earthen building (adobe, bamboo, etc.), organic gardening, natural landscaping and possibly some tree planting — and Dharmalaya is a beautiful place to get your hands dirty and learn about green living and Himalayan culture in the process.
For more information see Dharmalaya's volunteer page, read the FAQ, and then complete the volunteer application if you're interesting in joining.